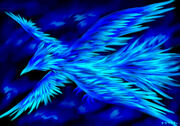 Aeon is a blue pheonix created by Ice Wings to help create flying life forms and accompany him. He is being taught the language of the gods by Ice Wings.
Appearance
Edit
He is a blue pheonix that glows with a blue flame
Created by Ice Wings to be the caretaker of the Skylands.
Statistics
Edit
1PP Command
None so far.