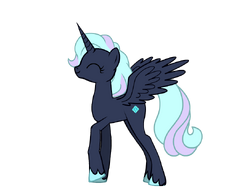 'God Information'
Name
Covell
Player
Patience
Appearance
A navy blue alicorn with a platinum mane and sapphire eyes
Domains
Beauty; Moon, Precious minarals
Symbol
A radiant diamond
Alignment
Neutral
'Actions'
Avatars
Planes
Artifacts
Exarches
Heroes
Races
Nations
Monsters
Plants
Landforms
The Moon
Covell is the 2nd Lord of Creation
Description
Edit
More than anything, she wants the world to be a beautiful place, in which all may wonder at her creations. While she does see herself as the foremost authority on all matters of beauty, she does not deny others the chance to aid her cause, and tends to be very approving of works of beauty created by other gods or mortals, regardless of the original intent. She conducts herself with poise and dignity, and expects others to do the same. She disdains poor manners and anything that she perceives as a threat or blemish upon her work.
Appearance
Edit
She manifests as a navy blue alicorn with a mane like platinum silk, and eyes like flawless sapphires. She shines with the soothing glow of the moon and her mere presence can make even the dullest of places seem as magnificent as any palace.
Covell was brought into being at the beginning of all things, alongside the First Lord of Creation, Solaria.