'God Information'
Name
Equina
Player
Blazer
Appearance
Firey mane with a golden-orange skin and bronze plates of wings
Domains
Flame, Purity and Curiosity
Symbol
Symbol: a flame in the shape of a heart. Cutie mark: blue fire with stars around it.
Alignment
Neutral
'Actions'
Avatars
Planes
Artifacts
Exarches
Heroes
Races
Nations
Monsters
Plants
Landforms
Equina is the 3rd Lord of Creation.
Description
Edit
Equina is young minded, curious, and completely pure of heart, she represents the purity of life, and tries to stop corruption, she is curious, and does not know her flames can burn and harm items and people.
((will increase soon))
Appearance
Edit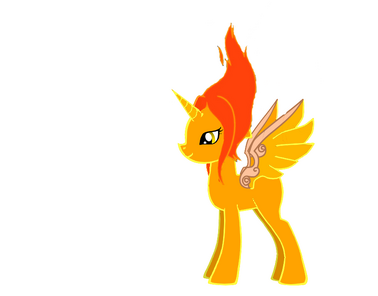 Equina has a sort-of orange-golden yellow fur, which is normally incredibly hot, a firey mane which flows upwards unless she is wet, in which it droops down, a long straight horn, and large wings with copper plate metal on the tops, she is beautiful in many eyes due to her purity.
Equina was born from the light of Solaria, making her the 3rd lord of creation and one of the oldest things in the universe, only younger than Solaria herself and Covell, and even then only by a few minutes.
No noteable history from this god has been noted as of yet